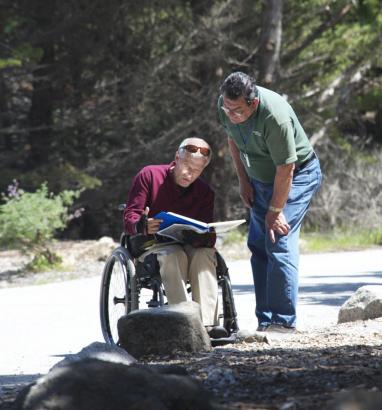 There are currently four wheel chair accessible trails in the Reserve — three of them scenic. The Sea Lion Point Trail was the first to be built. It traverses the upper plateau at Sea Lion Point, 90 feet above the water. Headland Cove and Sand Hill Cove are prominent and spectacular. There are two wheel chair accessible benches on the trail for relaxation and wildlife viewing. From this upper plateau our visitors can look for gray whales during the migration, harbor seals hauled out on the rocks below, sea lions on the islands off shore, and sea otters foraging in the kelp beds. A variety of birds can be observed from this trail. It is not uncommon to see flights of Brown Pelicans cruising by or the occasional Red-tailed Hawk hovering above looking for a meal. Pelagic Cormorants and Westen Gulls are seen daily. There are two Disabled Person parking places at trailhead at the Sea Lion Point parking lot.
The Granite Point Trail begins in front of the Whalers Cabin Museum, skirts around Whalers Cove and continues on to Coal Chute Point. The views of Whalers Cove and Carmel Bay are outstanding. Look for otters and harbor seals in the cove. During the nesting season Great Blue Herons are seen at Coal Chute Point building their huge nests in the tops of the pine trees. An accessible bench there offers nice views of the nests high in the trees above you. Whalers Cove is a major nursery in April and May for harbor seal pupping. A variety of birds are seen working in the cove including the Osprey that has taken up residence in our area.  Lots of egrets and gulls forage in the cove. Disabled Person parking is available in the Whalers Cove parking lot.
A wheelchair-accessible trail to Bird Island overlook at Point Lobos State Natural Reserve was completed in 2012. The Bird Island Trail is eight-tenths of a mile, round-trip, passing above China Cove and Gibson Beach and ending at Pelican Point with an accessible platform overlooking Bird Island.  Accessible benches above China Cove and at Pelican Point encourage gazing at the beauty.  Nesting birds (Brandt's Cormorants, Western Gulls, and Black-crowned Night Herons) can be seen there in season. The entrance to the trail is at the parking lot adjacent to the Bird Island picnic area.  There are two Disabled Person parking places at trailhead at the Bird Island parking lot.
The fourth trail is the Carmelo Meadow Trail, which starts at the Entrance Station and provides an easy access through the pretty pine forest to the Granite Point Trail. Two accessible benches at the trail junction offer nice places to enjoy Whaler's Cove. There is one Disabled Person parking place in the small parking area between the highway and the Entrance Station.
Events specially designed to serve the disabled are held twice per month. Explore the wonders of Point Lobos along trails that are fully compliant with ADA (Americans with Disabilities Act) standards. You are welcome to tour at your own pace, whether you walk fast or slow, are pushing a stroller or walker, using a cane or a wheelchair.
Docents with scopes, binoculars, otter pelts, photos, and more will be along the trails to make Point Lobos come alive!  We are using state-of-the-art technology to make it easy for anyone to see what is happening in real time in the view of a spotting scope.  A close-up of an otter's face!  Baby birds in a nest!  Whatever is found by our docents can be seen by all.  Of course, there is no charge for participating.
These walks are offered twice per month. For more information, please contact Melissa Gobell, Docent Coordinator and School Walk Coordinator at 831-625-1470.
Wheelchairs are available on loan at three locations in the reserve: Information Station, Whalers Cabin, and the Entrance Station. Ask the docent or park aide on duty at these locations.
Visitors with disabilities whose questions are not answered on this page may contact Point Lobos State Natural Reserve at 831-624-4909 (TTY relay service, 711) to inquire further about accessible facilities and services. On busy days your call may go to voicemail — if that happens, please try again at a later time. (Late in the day is he best time to call.)